Laurel Highlands run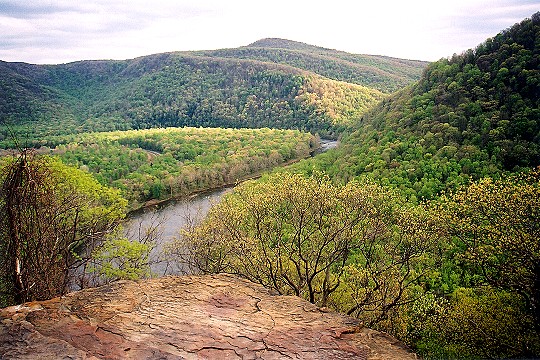 (Photo: Mile 3 of the LHHT, overlooking the Youghiogheny River near Ohiopyle, PA)
I felt it on tonight's run. The residual effect of a pounding downhill trail run lingered in my legs.
Last Sunday I headed over to SW Pennsylvania with DF for a daytrip to run in the
Laurel Highlands.
It was a splendid day--clear, calm skies with temps in the mid-50s. Starting from Ohiopyle, we covered 11.5 out-and-back miles (23 total) of this 70 mile backpacking trail. This trip brought back memories of the last time I visited here during the
Laurel Ultra
back in June. On that day I covered the 70 miles in 15 hours 54 minutes.
Starting from Ohiopyle, the first 8 miles of the
Laurel Highlands Hiking Trail
feature the trail's most dramatic elevation changes. After a short warm-up mile, the rocky terrain immediately climbs up 700 feet to a picturesque vista of the "Yough" River near mile three. After another couple miles of rolling trail, the major climb is a steep and rocky 1200 feet ending at a scenic valley overlook near the mile 8 marker.
More than I wish to admit, this was a difficult day. I had just run 16 hilly miles on Saturday. Yet I just could not pass up this opportunity to visit Laurel on such a gorgeous day. DF has signed up to run the formidable
Massanutten Trail 100 Mile
in May and he wanted to train on some rocky hills. Although its 3 hours away, Laurel is the best closest place to find such terrain. On this day and due to my fatigue, DF led the way and I followed.
We reached our supply cache at the Maple Summit Road crossing in 2:47. After a 20-minute break to refuel and refill water bottles, the downhill return journey began. With fatigue setting in and energy stores depleted, the downhill shuffle took its toll on my quads. With about 4 miles to go, we reached the last uphill climb before being treated to the same scenic vistas of the Yough. We arrived back in Ohiopyle after another 2:45 of running and hiking for a total of 5.5 hours on the trail.
The next edition of the
Laurel Ultra
takes place on June 9, 2007. I'm torn since its only one week prior to the Mohican 100. Since I can't imagine running both, perhaps I can recruit some local runners to tackle either the 70 Mile or 50k races at Laurel.