Looking ahead...
...but not
too
far ahead.
The year's end is near and a fresh 2007 calendar awaits. I'm easily distracted by what and where I want to be in April, May, and June of next year. Oh, my imagination...
Not so fast. One lonely race remains over there in the sidebar:
JFK 50 Mile
Why be in such a hurry for 2007 when there's still two months to go? After all, its still three weeks before Thanksgiving. Hmm.
(Mile 21: Bill and I on the campus of BC at the top of Heartbreak Hill)
Yes, 2006 has surpassed my dreams. Boston. Need I say more? And twice this year I set out to, and ran further than before. Time really does fly when doing this thing I love to do. It seems like only yesterday hanging with my bro at the top of Heartbreak Hill at the little race they have in
Boston.
Every running goal I set for this year I've gone out and hit the mark. Yet there's still one more challenge to go.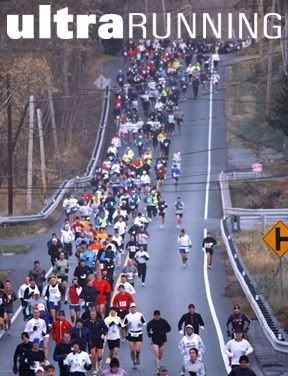 (Photo: Mile 2 of the 2005 JFK 50 Mile. Photo by Ultrarunning Magazine.)
Two-and-a-half weeks to go before JFK. At the time, last year's JFK was my longest race to date. There's a race report from last year somewhere and I'll have to dig it out for review. Its amazing to look back at the last 365 days. I've been blessed to have the chance to run in some very cool places. Yet this ultra-running thing is turning into some slippery slope. My imagination runs wild at the prospect whats next.
So instead of looking too far down the road, I'm going to cherish the next 2 weeks. I have a goal, but for sure I'd like to beat my time from last year. Now in its 44th year, JFK has a history like no other ultramarathon. Here's a reason to brush up on my Civil War history as the course follows some spectacularly famous battlegrounds.
Now that
running in circles
is not on my mind, I hope to check out my notes from last year and do a JFK preview. There's certainly lots to say. From the 1100 runners, to the varied terrain course, and the 300 trekkers, the JFK 50 Mile presents tactical challenges like no other.
First things first. Its time to hit the trails (that I've oh so neglected.) I hear its been muddy out there. I hope so. I've a couple trail runs planned for the weekend to get my trail legs back.
Two weeks. I can do this.
Giddyup.